Submitted by root_admin on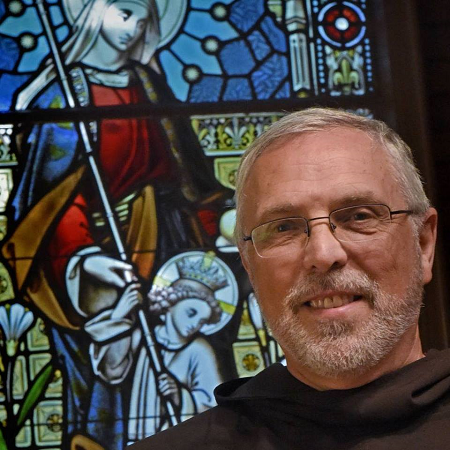 Br. David Rutledge of St. James, Lancaster, journeyed to Racine, Wisconsin the week of July 12-17 to take his professed vows in the Order of Saint Francis. "I have always felt a call to this order," said Brother David. "I retired from my secular job to start a new spiritual beginning."
By taking professed vows, Br. David is now considered a full member of the Order, as he continues the journey of formation. Professed Brothers participate in Chapter, a governing council, and are given leadership positions in the Order.  
David was a teacher and high school counselor when he retired and started in a three-year process to become an OSF. The process included studies, volunteer work at St. James in social ministry and mission and justice work, journaling and regular writing of Ember Day letters.
The Order of Saint Francis (OSF) is an active, Apostolic Christian religious order within the Anglican Communion, in communion with the See of Canterbury. It is more of a contemporary order which was started in 2004. Rather than living in an enclosed communal setting; OSF Brothers live independently in different parts of the world, with ministries based on the needs of their local communities. Members are baptized men who have been confirmed within the Anglican Communion, and who voluntarily commit to live by a set of professed vows for a term of years or for life.
Br. David is the only member of this Order in Pennsylvania. As part of his ministry, he leads silent retreats and can be reached at drutledge1225@gmail.com.