Submitted by root_admin on
Published:
Monday, November 18, 2013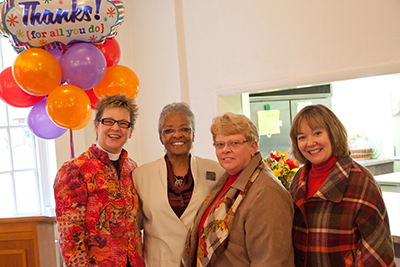 Picture by Don Peiffer
The 109th Annual Gathering of the Episcopal Church Women of the Diocese of Central Pennsylvania was held on Nov. 9 at St. John's Episcopal Church, Lancaster. The day began with registration at 9:30 a.m. and light refreshments followed by the annual meeting at 10:00 a.m. Thanks to those who volunteered to help in areas that we have vacancies on the board!!  View the program here.
At 11:00 a.m. we celebrated Eucharist with remembering those women whose names have been submitted for the Book of Remembrance in the past year.
An Honored Woman Luncheon was held immediately following Eucharist.  This year we honored Mary Ellen Baxter. The luncheon provided by St. John's Episcopal Church included salad, tomato bisque soup, quiche either seafood or vegetable and dessert.   Following the luncheon Mary Ellen was honored. She was serenaded by Jeanne Cooper who wrote a "ditty" about her life accomplishments with a touch of humor that had everyone laughing.  Mary Ellen was presented with a gift of jewelry made by Kim Kauffman.
Everyone received a favor – a prayer box with a mustard seed in it to remind each of us about Mark 4:30–32.